MarineL 6-10m3/d SWRO plant
Commercialized 6-10m3/d SWRO plant
Quick Details
Place of Origin:

Shandong, China (Mainland)

Brand Name:

KELOPURE

Model Number:

QDZY-SW-020

Application scope:

TDS≤35000ppm

Output water quality:

TDS ≤600ppm

Output water quality standard:

Meet the WHO guidelines for drinking water quality

Design:

modular design

Adapted seawater temperature:

5°C ~ 35°C

Freshwater electricity consumption/ton:

below 3.8kw.h/m3

Quality:

Steady

Operation:

one button start and stop

Port:

Qingdao

Trade Assurance:

YES
Packaging & Delivery
Packaging Details:
China Suppilier Water Desalination Methods:
Containerized Seawater desalination equipment is fit in 20ft or 40ft directly,for other types plant,it packaged in plywood
Delivery Detail:
25 days after order
China Suppilier Water Desalination Methods
Picture of Water Desalination equipment used for Ship
Technique Parameter
| | |
| --- | --- |
| Raw water | TDS≤35000ppm |
| Produced water | TDS≤600ppm |
| Water temperature | 5-35°C |
| Rate of desalination | ≥99.2°C |
| Power | by client demand Voltage and frequency 380V/50Hz 220V/440/415 60Hz |
| Operating pressure | 4.0-6.5MPa |
| Output Capacity(m³/H) | Meet Customer Needs |
Our ship use ocean water desalination machine can be suitable for any ship,easy in position and operation.
With one-button start and stop. Even there is no specialist,you can operate it easily.
Advantages
♣It adopts computer similationg system design;the complete system performs safely and reliably.
♥ It enables to treat seawater and brackish water meets to the World Health Organization (WHO), drinking water
standard.
♦Easy operation, it adopts PLC automatic control, one button can achieve the equipment start and stop.
♣Compact size, light weight, easy installation and commissioning.
♥It adopts the American DOW membranes and American CAT and Denmark Danfoss high pressure pump.
♦Modular design, especially suitable for the old ship, very easy in position.
Ocean Water Desalination Machine Mainly Includes :
China Suppilier Water Desalination Methods
| | |
| --- | --- |
| Components | Functions |
| Raw water tank | Its function is to store raw water,this can be omited if you don't need |
| Raw water pump | To provide pressure to the raw water into the pretreatment filters |
| Sand filter | To remove the suspended solids and colloids in the water |
| Activated carbon filter | To remove the color, free chloride, organic matter, harmful matters etc. |
| Precision filter | To remove the large particles, bacteria, viruses, in case they into RO membrane, the accuracy is usually 5um |
| Dosing system | usually it is adopted when the raw water recovery rate is more than 35% |
| HP pump | To provide high pressure so that the water can be pumped into the RO membrane with enough pressure |
| RO system | One of the most important part in the plant, remove the salinity of the water with rejection rate high to 99% |
| Water producing tank | To hold the produced water for drinking |
China Suppilier Water Desalination Methods
More detailed Pictures :
China Suppilier Water Desalination Methods
The process chart of ocean water desalination machine: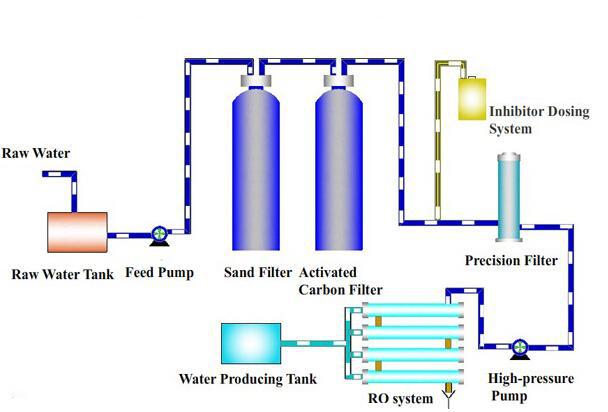 We have more sizes and output water capacity for your choice:
Model

Output Capacity
(m3/day)

Electro-consumption/ton (Kwh/T)

Dimensions(Vertical)
L×W×H (mm)

QDZY-SW-001

1

14

1200*650*700

QDZY-SW-002

2

10

1200*650*700

QDZY-SW-003

3

7

1200*650*700

QDZY-SW-005

5

7.5

1200*650*700

QDZY-SW-010

10

7.0

1200*650*700

QDZY-SW-020

20

6

1700*900*1700

QDZY-SW-030

30

5.5

1700*900*1700

QDZY-SW-050

50

6

1700*900*1700

QDZY-SW-070

70

5

1700*1000*1700

QDZY-SW-100

100

4

1700*1000*1700
China Suppilier Water Desalination Methods
Other sizes equipment pictures show:
Questions:
What kind of technology to adopt for seawater treatment plant?
Reverse Osmosis Technology
How long is the warranty period of the equipment?
The warranty period is 1 year of equipment.
The membrane should be change one time for 3~5 years.
What's purpose of output water after treated?
The fresh water after desalination can meet the World Health Organization(WHO) drinking water quality standards for directly drinking.Also can be used for industrial pure water in electrical,electronic,medicine and energy industries after advanced treatment.
Our Services
Warranty:
Equipment warranty period of one year
Within a year if the equipment fails, Seller will be responsible for maintenance for free. Please ensure that buyer operate in strict accordance with operating instructions, because of illegal operations lead to equipment failure, not part of seller responsibility. Seller provide free lifetime technical support and services(Respond within 48 hours)
After-sale Service:
Considerate after-sale service
We provide after-sale telephone return,online technical support and train qualified on-site maintenance engineers for customers.
For each set of equipment,we will:
• Provide the entire system maintenance brochure and disk.
• Provide common spare parts for one year for the new equipment, after one-year guarantee,we offer spare parts with preferential price.
• Provide lifelong network technical support.
We also accept your special requirements to make self-design for you. And the painted color can also designated by customers.
We look forward to your any request!